Thank You For Visiting Our Site!!!
- we hope you will take a few minutes to get to know us better.


Historic Shorter Chapel African Methodist Episcopal Church
255 Natchez Street Franklin, Tennessee 37064
Phone: (615) 790-6611
...In the Heart of the Natchez Community

"A Church with a Heart for Christ and Community"
__________________________________


The Rt. Rev. Jeffrey Nathaniel Leath
Presiding Prelate of the 13th Episcopal District

The Rev. Walter W. Reid, Jr.
Presiding Elder of the South Nashville District

The Rev. Dr. William Webster Easley, Jr., B.S., M.Div., D.D., LL.D.
Pastor, Shorter Chapel African Methodist Episcopal Church


"The foundation has been laid, the direction is set, and we're moving forward in the Vision of Richard Allen and Christ Jesus!"



Happenings At Shorter!
You Are Welcome! Come And Join Us!
BIBLE STUDY - WEDNESDAYS - 6:30 P.M.
BAZALIA S. HARRIS COMMUNITY LIFE CENTER OF SHORTER CHAPEL
Adjacent to the Church
263 Natchez Street
Franklin, Tn. 37064

Shorter Chapel AME Church Faith, Friends, Family, and Fellowship Weekend!!!

August 23
Shorter Chapel Church Picnic - 11am
August 24
Shorter Chapel AMEC Annual Family & Friends Day
Guest Preacher, Rev. Latham Mills
11:00 A.M.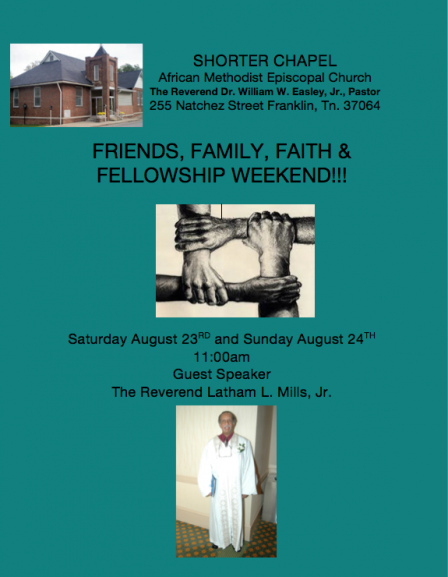 Join with Fellow Christians for Worship
WE OFFER WORSHIP SERVICES EACH SUNDAY:
Sunday Church School - 10:00 A.M.
Sunday Morning Worship - 11:00 A.M.
*Mid-Week Bible Study - Wednesday 6:30 P.M. @ Shorter Chapel Community Life Center
*All activities take place at Shorter Chapel AME church unless otherwise indicated*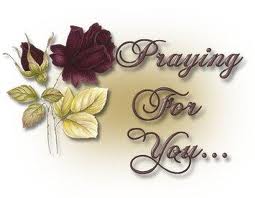 THE WEEKLY WORD FROM

Rev. Dr. William W. Easley, Jr., B.S., M.Div., D.D., LL.D.

A Newsletter Ad To Use
Catherine Pulsifer, © 2007
I was reading a newsletter and one of the ads in the newsletter caught my attention. It read:
When Was The Last Time You Used Your Bible?
Do you read your Bible or do you use your Bible?
For the blues, read Psalm 27.
For an empty purse, read Psalm 37.
If discouraged about work, Psalm 128.
If people seem unkind to you, John 15.
If you are losing confidence in people, 1 Corinthians 13.
If you are all out of sorts, Hebrew 12.
For a traveling companion, Psalm 121.
Rather than just reading your Bible, use your Bible!
Of course this ad intrigued me, so I got my Bible and started reading the references in the ad. I found the references did in fact help with the comments that were mentioned in the ad.

I started thinking about the second line in the ad. What did I do - do I read my Bible or do I use my Bible?

After some thought, I realized I was actually only reading my Bible, I hadn't really used it as the ad suggested.

Now, when I read my Bible, I actually am using the Bible to help me resolve issues in my life, and, to help me be thankful for all my blessings.

I am always reading inspirational books and looking for new ones. Here a book, the Bible, has been right here in front of me all the time. It is filled with wisdom and many inspiring messages and stories.

As Greg Tharpe, author of the book, The Godsend, says: "It can also be said that the Bible is a book of success and abundant blessings."

The Bible is a wonderful tool but like any tool that we have it does us no good unless we use it. And, just like tools, if they are not used, they become rusty and thus is so with the Bible.

You can easily develop a habit if you so wish to do so and that habit can be formed by something you do over and over again until it becomes second nature. As with the Bible, it can become your best friend in that you can rely on it without leaving one day absent from its wisdom. The way to establish and use the Bible is to set a routine where you read the Bible daily. This could be at night just before you go to bed. You can start by reading at any book of the Bible but the thing to do is to set a number of pages or verses to read. Each night, you start where you left off and the idea here is twofold: first of all it is to establish a new habit, and the second is to give your mind something positive to think about while you sleep. This transference to your subconscious mind will help further develop your habit and to bring the messages of wisdom from the Bible into your life on a daily basis.

You do not have to forsake reading any other inspirational or motivational books; this is not the purpose. The purpose is to ensure that the gift of wise words from the Bible form an integral part of your life. One other way to develop a habit and one that can be used in the future is to start to read passages from the Bible on a regular basis to your children. This reading is especially helpful through their early years especially when they start to attend Sunday school. You can always find out what Biblical stories are being reviewed or read and you can follow on these stories by reading the same again to your children, or, when they can read, help them to read more challenging passages. This practice not only reinforces the word of God but is also a fine way to encourage reading.
Prayer Continued
Author Byron Pulsifer, ©2012
There are those who believe that a Sunday church service is the only necessary time and place to pray, and these prayers are usually lead for you by the minister. Do you have occasion to pray at any other times?

There is no one time that prayer is required nor is there just one place. Prayer is something that you may engage in more than you think. It could simply be a prayer that your children will arrive safely at school, or a prayer that your spouse will be able to get off work in time to pick the kids up from daycare or school, or that you will be able to attend a child's recital.

And, while each of these kinds of prayers may not be specifically addressed to God, they are a reflection of one's prayers that continue to enter your life on a daily basis.

So, what does prayer mean in these situations rather than prayers that are more formalized in a particular way or in a particular location such as a church?

Prayer means that you have placed God at the forefront of your life and when you send messages of caring, desire, concern you are in reality communicating with God. God hears your concerns, thoughts and hopes without judging or without a need to hear your prayers in a formal way.

There are prayers that thank God for all the blessings we have including our freedom to worship when and where we want, to thank God for allowing us to love, to car, and to in turn be loved by others. There are prayers that ask for forgiveness, that asks for guidance during times of strife or unrest, or prayers for others throughout the world seeking more peace and tranquility or food to sustain life, or to ask for the goodness of other nations to help other mankind.

In each of our prayers, there is always a special communication that supercedes that which we can touch, see or envision as part of our worldly state. Prayers go beyond that which often we can understand or contemplate for there is a master plan that we only touch upon without knowing the huge picture that is unforeseen.

Prayer continuous on a continuous basis for each of us who understands and values the grace and power of our supreme being.

When you engage in prayer, you are exercising a control over your life that no one can take away. You do not have to pray out loud like you would be requested to do in a church. You can pray silently during the day by taking a short mind break where you open your communication with God. You can pray when you are walking through the woods, or in a park, or in a movie theatre. There is no need to be recognized as praying if you should live in a country where your prayers are not welcome. You can also engage in leading a prayer if you are asked to make a blessing over your Thanksgiving meal, or to pray with your children before they fall to sleep.

You have an open line of communication with God that and one that cannot be denied. There are a lot of people who have forsaken prayer or denied that its power is real. In one situation recently, this denial was dominant until there was a major catastrophe with one of their children. It was a terrible event that caused both man and wife to suffer greatly with the loss of a child. But, it was the gift of prayer with God that strengthened them to be able to handle this devastating event. It was not an easy situation but it was a situation that God could help them with for it was only through communication with God that comfort was brought to them.
May Christ Jesus bless you and keep you in His grace and love.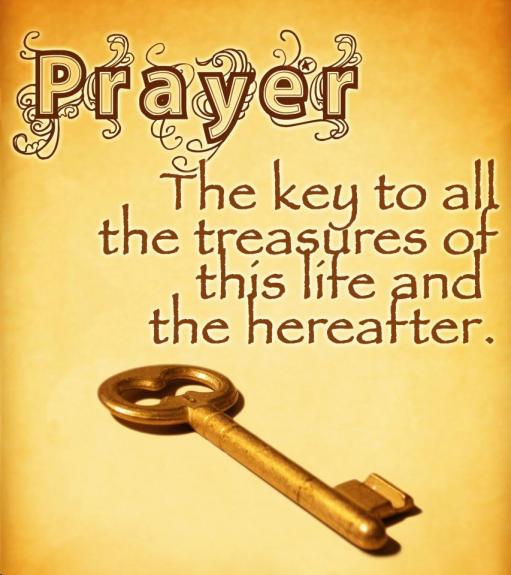 Got Questions?
If you have questions prior to your visit or need directions to
Historic Shorter Chapel African Methodist Episcopal Church please contact us:
Phone: (615) 790-6611 | Email: hsccame@bellsouth.net

Whether you are new to the Franklin/Williamson County area
or just visiting our website.
It is a joy to extend a welcome to you.

We invite you and your family to join us in our Sunday Service and Church School.
We are delighted that you took the opportunity to visit our online presence.
We hope that this site provides you with the information and spiritual experience
that will be valuable and meaningful to you.
If you are looking for a place to worship and praise the name of Jesus,
please consider Historic Shorter Chapel A.M.E. Church
and make your journey our way.

We would love the opportunity to fellowship with you.
Our church doors are open and ready to receive you.
The Rev. Dr. William Webster Easley, Jr., and First Lady, Mrs. Ora L. Easley
and the entire Shorter Chapel A.M.E. Church Family, Welcome YOU!


Live Well ~ Live Blessed
(Mark 5:34, MSG)