Thank You For Visiting Our Site!!!
We are honored to know that you have stopped by for a visit.
- We hope you will take a few minutes to get to know us better.

Historic Shorter Chapel African Methodist Episcopal Church
255 Natchez Street Franklin, Tennessee 37064
Phone: (615) 790-6611
...In the Heart of the Natchez Community

"A Church with a Heart for Christ and Community"





________________________________
The Rt. Rev. Jeffrey Nathaniel Leath
Presiding Prelate of the 13th Episcopal District

The Rev. Harold M. Love, Jr.
Presiding Elder of the South Nashville District

The Rev. Dr. Kenneth H. Hill
Pastor, Shorter Chapel African Methodist Episcopal Church


"The foundation has been laid, the direction is set, and we're moving forward in the Vision of Richard Allen and Christ Jesus!"



You are welcome to join us this Sunday
at our 10:00 am Worship time.
- We look forward to seeing you soon!


All around the world, International Women's Day represents an opportunity to celebrate the achievements of women while calling for greater equality.
The Women of Shorter Chapel AME Church are going to "Make It Happen in 2015" Our Women's Day theme "Women Marching for Christ" encourages the effective action for advancing and recognizing women. Our Colors this year will be Red and White for the Hearts and Pure Souls of Faith marching towards a new and successful beginning for women in solidarity and prayer.
Each year International Women's Day (IWD) is celebrated on March 8. The first International Women's Day was held in 1911. Thousands of events occur to mark the economic, political and social achievements of women. Organisations, governments, charities, educational institutions, women's groups, corporations and the media celebrate the day.
From 1908, the Women's Social and Political Union (WSPU) in Great Britain adopted the colour scheme of purple, white and green to symbolise the plight of the Suffragettes. Purple symbolised justice and dignity - two values strongly associated with women's equality. The three colours were used for banners, flags, rosettes and badges to show solidarity.
We Are Looking Forward to Seeing You in Celebration of Women's Day!!!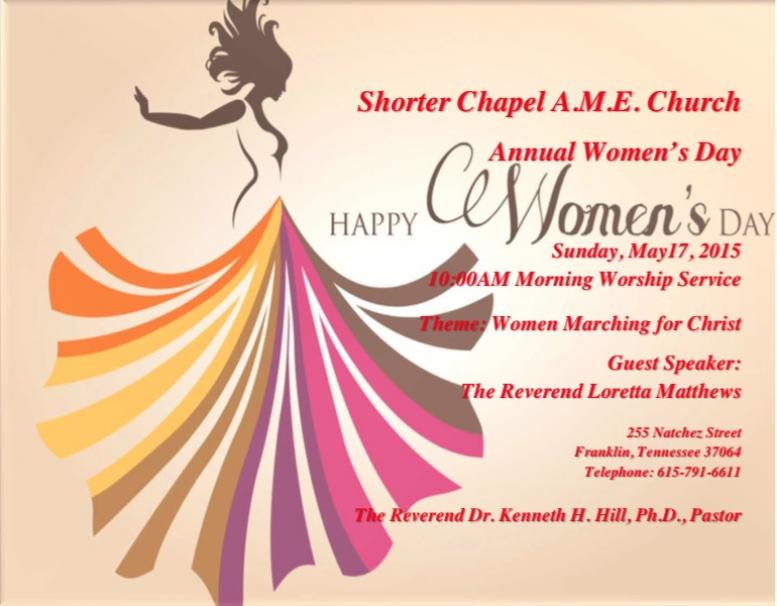 BIBLE STUDY - EACH WEDNESDAY @ NOON
Join with Fellow Christians for Worship
WE OFFER WORSHIP SERVICES EACH SUNDAY:
Sunday Church School - 9:00 A.M.
Sunday Morning Worship - 10:00 A.M.


*All activities take place at Shorter Chapel AME church unless otherwise indicated*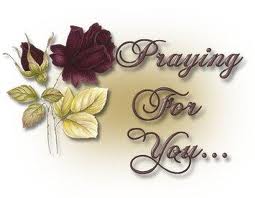 Got Questions?
If you have questions prior to your visit or need directions to
Historic Shorter Chapel African Methodist Episcopal Church please contact us:
Phone: (615) 790-6611 | Email:


Whether you are new to the Franklin/Williamson County area
or just visiting our website.
It is a joy to extend a welcome to you.

We invite you and your family to join us in our Sunday Service and Church School.
We are delighted that you took the opportunity to visit our online presence.
We hope that this site provides you with the information and spiritual experience
that will be valuable and meaningful to you.
If you are looking for a place to worship and praise the name of Jesus,
please consider Historic Shorter Chapel A.M.E. Church
and make your journey our way.

We would love the opportunity to fellowship with you.
Our church doors are open and ready to receive you.
The Rev. Dr. Kenneth H. Hill, and First Lady, Dr. Roberta Hill
and the entire Shorter Chapel A.M.E. Church Family, Welcome YOU!


Live Well ~ Live Blessed
(Mark 5:34, MSG)